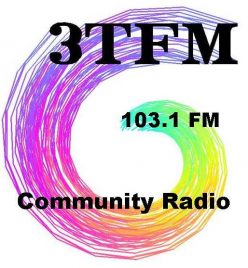 Homepage

     Welcome

to 3TFM Community Radio's website.We broadcast to the 3 towns of Ardrossan, Saltcoats, and Stevenston on 103.1FM, 24 hours a day. Also online to the world on, www.3tfm.org.uk. 
Click on above link,then press play button after page opens.
To contact our Facebook page click on to our blue link below.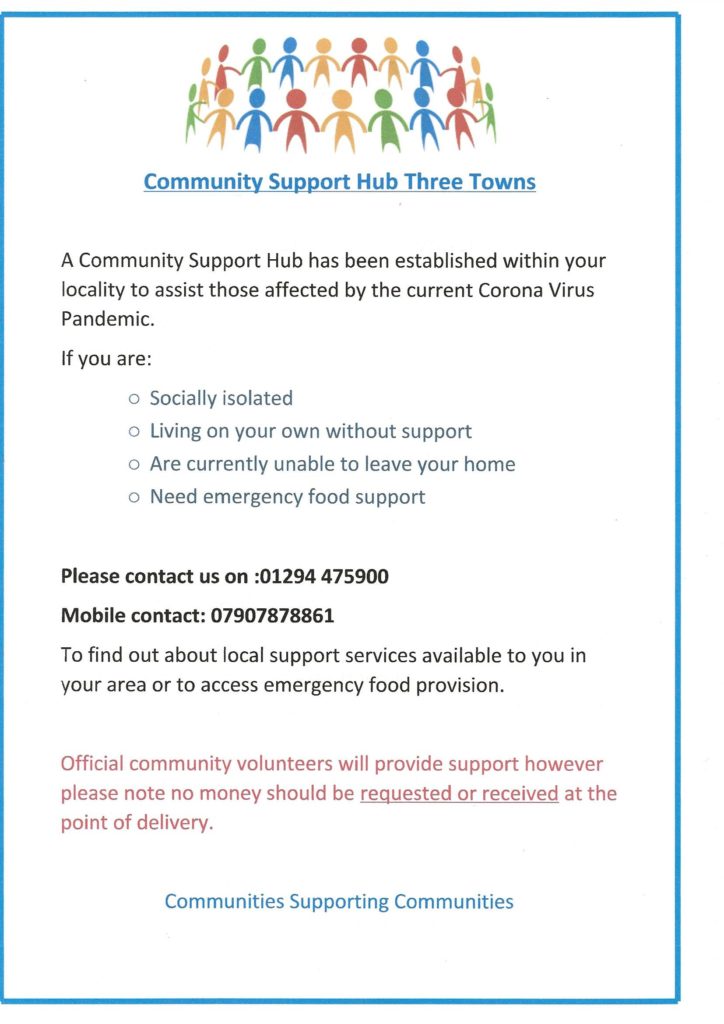 Outpatient appointments
As a result of the ongoing Coronavirus (COVID-19) pandemic, NHS Ayrshire & Arran has taken the decision to cancel new and routine follow-up appointments for outpatient clinics for acute services.
We are currently working through cancellations for affected patients – this impacts those with appointments already made for acute specialities up to and including 31 May 2020. Anyone affected will receive a letter with details of next steps.
Dr Crawford McGuffie, Medical Director, said: "This has been a difficult decision and we understand that this will have an impact on large numbers of people who access our services. However, this will protect vulnerable groups and enable us to focus resources on tackling coronavirus (COVID-19) in these unprecedented times.
"I ask for the public's continued understanding that we are making these decisions to better protect citizens from infection and have our frontline staff where they need to be to care for those who need it most.
"Clinicians will review the clinical records of patients with cancelled appointments and consider alternative ways of managing healthcare during this time. This could mean your appointment is offered by telephone or video appointment if suitable.
"Please save the number 0800 678 3393 on your telephone – this is the NHS calling you, so we'd appreciate if you store the number to have confidence to answer at this time."
Please find detail on specific specialities below:
Urgent cancer suspected (UCS) – clinicians will make arrangements for UCS patients. Patients will be contacted by telephone or letter advising of next steps.
Orthopaedics –consultants at both University Hospital Ayr (UHA) and University Hospital Crosshouse (UHC) are reviewing clinical records of fracture and urgent orthopaedic patients and will contact anyone impacted. New referrals from the Emergency Department at UHA will be seen by an Advanced Nurse Practitioner in the first instance.
Renal – specialist physicians in this area have already contacted those with appointments in the next two weeks and will continue this process for those with appointments in the future.
Anti-coagulant – clinics for these patients have been rearranged in different locations to those normally offered. Impacted patients will be contacted and advised whether to attend Ayrshire Central Hospital or East Ayrshire Community Hospital.
Paediatrics – all urgent new referrals are being reviewed. Parents/carers will be contacted with next steps. Clinics will be temporarily relocated to Ayrshire Central Hospital.
Antenatal – only first visit patients will be invited to attend antenatal clinics, in order to have their booking appointment, booking blood tests, dating ultrasound and first trimester screening. Patient's notes will be reviewed by consultants/registrars attached to each clinic and arrange further telephone consultations to organise plans for their pregnancy.
Radiology – all non-urgent appointments are being postponed until further notice.
Clinical Physiology – all non-urgent appointments are being postponed until further notice
For more information on Near Me (the secure video appointment system used by the NHS) please visit: https://www.nearme.scot/
As a result of the ongoing Coronavirus (COVID-19) outbreak, our clinical and administrative staff are making an increasing number of telephone calls to patients in order to deliver clinical care. Calls generated from NHS Ayrshire & Arran come from the telephone number 0800 678 3393. We are asking members of the public to store this number in their phones, so that they recognise the number if we need to call.
Community pharmacies
In order to ensure our community pharmacies are open to maintain medicine supplies during the current Coronavirus (COVID-19) outbreak, we have taken the decision to change opening hours of all community pharmacies across Ayrshire and Arran.
Pharmacies will now open one hour later and close one hour earlier than their normal opening hours. They will also close for one hour at lunch time.
Dr Crawford McGuffie, Medical Director explains: "We need to ensure pharmacies are open to maintain medicine supplies. Pharmacy staff need time to clean premises to protect the public and themselves and catch up with the overwhelming increase in prescription volume.
"We do ask members of the public to be patient and allow extra dispensing time before collecting your prescription.
"And remember, if you any coronavirus symptoms, please ask someone else to collect your medicines for you."
For information on the normal pharmacy opening hours, please visit www.nhsinform.scot.
The best way to protect yourself and others against coronavirus (COVID-19) is to wash your hands with soap and water, or use a sanitiser gel, regularly throughout the day.
For the latest health and travel advice, visit https://www.nhsinform.scot/illnesses-and-conditions/infections-and-poisoning/coronavirus-covid-19#
A free helpline has been set up for those who do not have symptoms but are looking for general health advice: 0800 028 2816.
If you have concerns about Coronavirus (COVID-19) and are worried about symptoms, you should call your GP or NHS 24 (111).

SKELMORLIE – BALNAGOWAN
Cunninghame Housing Association are releasing 27 New Homes for Rent from 25 November 2019 until completion in March 2020. 2 bedroom homes are available. Applications are being accepted through the North Ayrshire Housing Register (NAHR) and can be downloaded from the following website (click blue link to go to website) www.cunninghame-housing.org
Site plans, Housing styles and Site video can be seen by visiting their website. Drone footage and an internal walk through video of a 3 bedroom home will be added soon. Stay up to date by visiting their website.

   Royal British Legion Scotland
                                               
"Saltcoats, Ardrossan & Stevenston Branch now have a newly elected Branch Committee serving the 3 Towns.  May we take this opportunity to remind you all that we fully support all Veterans, new and current members of the RBLS SAS Branch."  
RBLS exists to perpetuate in civil life the principles for which the nation stands; to foster a sense of loyalty to the Crown, community, state and nation; to preserve the spirit of fellowship and service to others formed by all ranks and to maintain, in a strong, stimulating, united and democratic comradeship, all those who have served in H.M. Forces, or Auxiliary Forces, and others defined as eligible for membership of RBLS so that neither their efforts nor their interests shall be forgotten; that their welfare and that of the dependants of those who died in the service of their country may be safeguarded; and that just and equitable treatment shall be secured for them in respect of any difficulties caused in their lives as a result of their service. RBLS shall be non-political and nonsectarian.
We'd like to invite past and prospective veterans and their families who may wish to join and help develop the branch.  We would very much like to benefit our veterans and offer them the help, support and comradery that they remember.
 Membership is open to other organisations such as the RNLI, HM Coastguard, War Widows, Merchant Navy, Fire, Police, and Ambulance who support the aim and objectives of the RBLS.
Our contact details are as follows:
Paul Coffey – President
Paul Swainson – Chairperson
Boab McDougall – Treasurer & Secretary sasbranchsecyrbls@gmail.com
Emma Gration – Vice Chair & Welfare Officer
Suzanne Fernando – Press/Publicity Officer  publicityofficer@yahoo.com