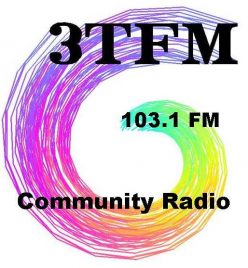 Homepage

Welcome

to 3TFM Community Radio's website.We broadcast to the 3 towns of Ardrossan, Saltcoats, and Stevenston on 103.1FM, 24 hours a day. Also online to the world on, www.3tfm.org.uk. 

You can also download tunein from the app store to listen to us on tablet,mobile phone,and computer. 
 To contact our Facebook page click on to our blue link below.
Harris McCoo visits 3TFM COMMUNITY RADIO
On Friday Morning 12 October we had a V.I.P visit us at 3TFM.
None other than Harris McCoo was promoting his new single "The Harris McCoo Song" sung by Murray Gee Mack. You can download it from iTunes or Amazon. Everyone help us to get it to No1 for Christmas.