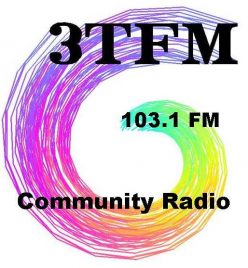 About Us
We are a community radio station licensed by the Office of Communications to broadcast to the 3 Towns of Ardrossan, Saltcoats and Stevenston on 103.1fm. We also broadcast online at www.3tfm.org.uk.
With a primary focus of promoting health, 3TFM takes volunteers from the three towns and surrounding areas who are interested in different aspects of broadcasting. Providing training in live presentation, radio production, administration and other key skills to this industry.
The organisation also provides the facility for local community groups to further there audience and increase participation by playing on-air ads and providing dedication pieces of programming targetting towards these groups and there users.More than 260 community groups including the elderly, youth projects,credit unions,cancer support groups, football and arts organisations have promoted their work "on-air".
3TFM Community Radio have their studios in the Frank Sweeney Centre for Enterprise in Glasgow Street,  Ardrossan, previously we broadcast from Focus Adult Learning Centre in Primrose Place in Saltcoats.
3TFM officially started broadcasting on 19th April 2008 and our pool of volunteers and partners have been working hard since then to provide the residents in Ardrossan, Saltcoats and Stevenston the best music and community and health information that is more local than any other station in the area. Because we are based in the 3 towns we produce programmes for the community by the community using local people,and we are very proud of that. If you have never heard of us, why not tune in and hear what you're missing on 103.1fm or tune in online at www.3tfm.org.uk.  You'll be surprised that you have a radio station for the 3 towns on your doorstep.Let us know what you think.
Our Key Commitments to Ofcom
3TFM will work with organisations such as Auchenharvie,Ardrossan,and St Andrews Academies,to train 40 young people per annum,in the skills of radio broadcast and production.

All volunteers will receive ongoing support and an exit interview to gauge their level of satisfaction with training and the extent of personal growth and development.

We will collate and publish outputs, outcomes and written impact statements.We will seek to encourage 30 trainees to progress toward further education,training or employment.

4 open days per year will be held to encourage recruitment from within the wider community, we will aim to recruit and train 30 volunteers per annum.

A principal aim of the station is to engage with local people in the design and production of programming whichreflects local need. We have a sub group within the station with the specific responsibility for community engagement.

We will make contact with up to 250 Community and Voluntary Organisations/Community Associations who manage local community halls and community centres, within the area. We offer Community Groups and local agencies access to the air waves to promote a wide range of social objectives.
If you are looking for more information, to offer assistance, or to express an interest in funding, sponsoring a show or feature,or would like to advertise on the station. Please ask for our Station Manager Archie Edgar or write to him at the address below.
3TFM Community Radio for Health
Frank Sweeney Centre for Enterprise, 82-84 Glasgow St.    Ardrossan, KA22 8EH.
Telephone: 07488 234957
E-Mail: archie@3tfm.org.uk